Positively Pittsburgh Live! News 09-29-14
POSITIVELY PITTSBURGHER SPONSORED EVENTS:
Women's Interactive Network
Professional Development Day 2014
CULTURAL CLUES:
Pittsburgh Symphony Orchestra Fiddlesticks Concert Series | Calliope Presents The Duhks
|
All-Woman Band LONG TIME COURTING Brings Their Unique Celtic Roots Sound to Calliope's Roots Cellar Series
|
Cirque Dreams Holidaze
|
The Pittsburgh Symphony Orchestra's BNY Mellon Grand Classics Series Heats Up with 'Spanish Strings'
|
Pittsburgh Dance Council Announces Aspen Santa Fe Ballet
WOMEN AND GIRLS ACHIEVEMENT:
Night Out with the Women on City Council
|
Closing the Gap: 50 Years Seeking Equal Pay
|
4th Annual Women First Forum| International Day of the Girl Celebration
|
7TH ANNUAL NAWBO DAY

BUSINESS BUZZ: Coffee With
NON-PROFIT EVENTS SPONSORED BY BLACKTIE PITTSBURGH:
STEP AFRIKA!
|
8th Annual In the Pocket with Charlie Batch
|
GOSPEL IDOL

NEIGHBORHOOD HI-LIGHTS: WQED PRESENTS PITTSBURGH FROM THE WATER

POSITIVE PITTSBURGHERS: Comedy Central Star Anthony Jeslenik
POSITIVELY PITTSBURGHER SPONSORED EVENTS
Women's Interactive Network Signature Event
Professional Development Day 2014
Wednesday, October 15, 2014 | 7:30 AM - 1:30 PM
Gaetano's Restaurant, 1617 Banksville Rd
The 2014 annual Professional Development Day will be filled with an amazing group of women that will share their knowledge, expertise and energy. Breakfast & Lunch +6 Amazing Speakers!
Be The Change! A Day Filled With How To's
Intellectual Property 101
By Kathleen Kuznicki, Lynch Weis, LLC
Time Saving Tech Tools for the Savvy Business Owner
By Susan Lieber, Leave it to Lieber
My 20 Year Journey with "The Gift of Holiday Valley"
The Benefits of Intentional Self Care
By Jacqueline Algaier and Psychologist Lori Rothschild
Using Podcasting/Internet Radio to Become a Celebrity Expert to Increase Your Credibility and Promote Your Business
By Joanne Quinn-Smith, 2009 National SBA Journalist of the Year, AKA TechnoGranny, Talkcast Host, Publisher, PositivelyPittsburghLiveMagazine.com
Bring donation items that will go to support our local charities, such as gently used clothing, accessories, shoes, handbags, jewelry and receive a complimentary door prize ticket.
WIN-Pittsburgh Members $35.00 | Members Only Vendor Table $50.00 | Non-Member $55.00
CULTURAL CLUES
PSO Fiddlesticks Family Concert
Oct. 18, 2014 | 11:15 AM | Heinz Hall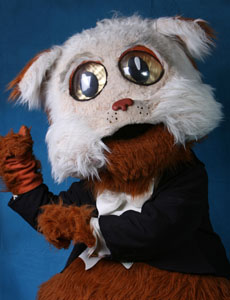 The beautiful colors of the changing leaves and the fun of Halloween are some of the reasons that
Fiddlesticks thinks fall is a great time of year! Delight in the sounds of Night on Bald Mountain, thrill to "Harry's Wondrous World" and other music inspired by fall. Discovery Time Adventures begin at 10 a.m. Tickets cost $12.00-22.25.
For more information call 412-392-4900 or visit pittsburghsymphony.org.
Tallis Scholars Return to Heinz Hall to Perform with Pittsburgh Symphony Brass
Dec. 10, 2014
|
7:30 PM
|
Heinz Hall
Take a trip back in time this holiday season with the Pittsburgh Symphony Brass and leading Renaissance vocal ensemble the Tallis Scholars on Wednesday, December 10 at 7:30 p.m. in Heinz Hall. The Tallis Scholars recently completed a very successful world tour with 99 events in 80 different venues throughout 16 countries. In December, they return to Heinz Hall to fill it with a variety of inspiring music for the Christmas season, including another outstanding performance of Allegri's Miserere. This concert also brings a special present to audiences — for the first time ever, the Tallis Scholars will close the concert in a shared performance of a newly commissioned work with the Pittsburgh Symphony Brass, who also will perform selections from their Christmas albums with the virtuosic flare for which they are known.
The Tallis Scholars were founded in 1973 by their director, Peter Phillips. Through their recordings and concert performances, they have established themselves as the leading exponents of Renaissance sacred music throughout the world. Phillips has worked with the ensemble to create, through good tuning and blend, the purity and clarity of sound which he feels best serve the Renaissance repertoire, allowing every detail of the musical lines to be heard. The Tallis Scholars perform in both sacred and secular venues, usually giving around 70 concerts each year across the globe. In 2013, the group celebrated their 40th anniversary with a World Tour performing 99 events in 80 venues in 16 countries and travelling sufficient air-miles to circumnavigate the globe four times. They kicked off the year with a spectacular concert in St Paul's Cathedral, London, including a performance of Thomas Tallis' 40-part motet Spem in alium and the world premieres of works written specially for them by Gabriel Jackson and Eric Whitacre. Their new recording of the Missa Gloria tibi Trinitas by the 16th Century Tudor composer, John Taverner, was released on the exact anniversary of their first concert in 1973 and enjoyed six weeks at number one in the UK Specialist Classical Album Chart.
For more information click HERE
Calliope Presents The Duhks
Saturday, Oct. 18, 2014
|
7:30 PM
|
Carnegie Lecture Hall (Oakland)
No band epitomizes the polyethnic strands of modern folk music better than The Duhks. Since forming in Winnipeg in 2001 The Duhks have created a dynamic blend of old-timey, French Canadian and Celtic music punched up with shades of blues, soul and driving Afro Cuban rhythms that leaves festival crowds on their feet. Over the course of 4 critically-acclaimed albums the band has earned Juno and Grammy awards and nominations and have played a significant role in the neo-folk revival.
On Beyond the Blue The Duhks are in the best form of their 13 year career. Rejuvenated by a two year hiatus and energized by the return of vocalist Jessee Havey and the addition of new members, fiddler Rosie Newton, drummer/percussionist Kevin Garcia, and guitarist/bouzouki player Colin Savoie-Levac, The Duhks founder Leonard Podolak found an amazing pallet of inspiration for the new project. "All of the people who have been in the band over the years, including non-touring founding members Tania Elizabeth and Jordan McConnell (who both appear on the album) have had a hand in shaping our sound and direction. The goal with the new record was to draw on everything we've learned over the years and everything we know about where we want to take the music now and create something as fresh, exciting and forward thinking as possible." Toward that end, the band turned to the rising production team of Mike + Ruthy (Mike Merenda and Ruth Unger of The Mammals), who brought a progressive approach to production that was still firmly rooted in the traditions of folk music. Tickets are $39 / $23 student rush w/ ID, (prices include handling fee).
For information, contact Calliope at (412) 361-1915, or by visiting www.calliopehouse.org.
All-Woman Band LONG TIME COURTING Brings Their Unique Celtic Roots Sound to Calliope's Roots Cellar Series
Thursday, Oct. 23rd, 2014
|
7:30 PM
|
The Roots Cellar at The Pittsburgh Center For the Arts
Join Boston-based quartet Long Time Courting for an evening of traditional and original music with evocative vocal harmonies and powerful instrumentals. Long Time Courting is an all-women supergroup featuring Shannon Heaton (flute, accordion, vocals) of Matt & Shannon Heaton and Childsplay, Liz Simmons (guitar, vocals) of Annalivia and the John Whelan Band, Valerie Thompson (cello, vocals) of Laura Cortese's Acoustic Project and Fluttr Effect, and Katie McNally (fiddle, vocals), also of Childsplay. Together as Long Time Courting, these four talented women offer an extraordinary blend of neo-traditional Irish, Scottish and American music that showcases each musician's versatility, creativity, and mastery. Exquisite vocal harmonies combine with formidable instrumental prowess to create music that is both playful and richly satisfying. The members of the group are all seasoned performers, having toured with such notable acts as The John Whelan Band, Childsplay, Robbie O'Connell, Aoife Clancy, Laura Cortese's Acoustic Project, and Carlos Núñez.
Calliope Concerts at The Roots Cellar is one of Pittsburgh PA's most charming and versatile performance venues setting the stage for unforgettable live music. Calliope Concerts are held in the acoustically-sound subterranean room at The Pittsburgh Center for the Arts. The Roots Cellar presents a unique and intimate atmosphere for an up-close experience with the best folk musicians the world has to offer. The club-like environment allows for high-top, low-top and couch seating. Wine, beer and soda are available for purchase from the bar (proceeds benefit the PCA). Tickets are $23 / $12 (w/ student ID) *handling fees included.
For information, contact Calliope at (412) 361-1915, or by visiting www.calliopehouse.org.
Cirque Dreams Holidaze
December 29 and 30, 2014
|
Benedum Center
BACK BY POPULAR DEMAND... "if pure entertainment and an abundance of eye candy are on your holiday wish list, Cirque Dreams Holidaze should fill your Christmas stocking" raved the Pittsburgh-Tribune. Cirque Dreams Holidaze returns with a bigger and more elaborate holiday stage spectacular that is a cirque show... Broadway musical... and family show all in one!
Not to be missed before opening in New York next year! With over 300 costumes, 20 acts and 30 artists from every corner of the globe, Cirque Dreams Holidaze takes the holiday season to new heights! Witness snowmen, penguins, angels, reindeer, toy soldiers, gingerbread men, ornaments and of course Santa; with soaring acrobatics, gravity defying feats, elaborate production numbers, imaginative costumes, illusions and more. The show also celebrates the most wonderful time of the year with singers, original music and seasonal favorites all performed in a winter wonderland of amazement.
For more information click HERE
The Pittsburgh Symphony Orchestra's BNY Mellon Grand Classics Series Heats Up with 'Spanish Strings'
Friday, Oct. 10 and Saturday, Oct. 11 at 7:30 PM
|
Sunday, Oct. 12 at 2:30 PM
|
Heinz Hall
The Pittsburgh Symphony Orchestra brings the heat with "Spanish Strings," a BNY Mellon Grand Classics weekend featuring the U.S. debut of Israeli conductor Omer Meir Wellber and the Heinz Hall debut of Spanish guitar phenom Pablo Sáinz Villegas, on October 10-12 at Heinz Hall. Wellber will lead the Pittsburgh Symphony Orchestra in Tchaikovsky's virtuosic "Manfred Symphony," an expansive programmatic symphony based on Lord Byron's tortured character Manfred, as he wanders the Alps grieving the loss of his great love, Astarte. The charismatic Sáinz Villegas will perform Joaquin Rodrigo's beloved concerto for guitar, which was inspired by the gardens at Philip II's spring resort palace, Palacio Real de Aranjuez. The program opens with Debussy's charming "Petite suite," inspired by the poetry of Paul Verlaine.
Each BNY Mellon Grand Classics concert is part of the Explore & Engage program, which includes pre-concert talks, exhibits, display boards and interactive activities that illuminate the music, composers and the time in which they created. This weekend, Resident Conductor Lawrence Loh will lead a pre-concert talk from the stage one hour prior to the concert start time; a multimedia archival display about former Pittsburgh Symphony Orchestra Music Director Lorin Maazel's life and career will be on display in the Grand Tier lobby; and the Three Rivers Young People's Orchestra will perform in the Grand Lobby one hour prior to concert time on Sunday, October 12.
Tickets, ranging in price from $25.75 to $105.75, can be purchased by calling the Heinz Hall box office at 412-392-4900 or visiting pittsburghsymphony.org.
Pittsburgh Dance Council Announces Aspen Santa Fe Ballet One Night Only Returns to Pittsburgh with a New Work
October 11, 2014
|
8 PM
|
Byham Theater
The Pittsburgh Dance Council, a division of the Pittsburgh Cultural Trust, announces the return of Aspen Santa Fe Ballet, featuring top global choreographers with bold visionary works, all performed
by truly dynamic dancers. Aspen Santa Fe Ballet will perform on Saturday, October 11, 2014 at 8 p.m. at the Byham Theater as part of the 2014-2015 Dance Council Season.
Jean-Philippe Malaty, the company's executive director, is happy to grace the Byham stage once again. "We are thrilled to be returning to Pittsburgh, as we fondly remember the warm welcome we received from the Pittsburgh audience on our debut four years ago. We are proud to present a vibrant program of works, all commissioned by Aspen Santa Fe Ballet." "What I find so truly marvelous about Aspen Santa Fe Ballet is the artistic commitment to working with new, dynamic, and incredibly gifted choreographers," shared Paul Organisak, Executive Director of the Pittsburgh Dance Council and Vice President of Programming for the Pittsburgh Cultural Trust. "Each program, including the one our Pittsburgh audiences will see, features some of the most exciting new contemporary ballets being created today by the remarkable dancers of this exquisite company."
Square None, the company's first commission by Norbert De La Cruz III, is an ambitious and expansive piece that explores themes of youth and naiveté. The Aspen Times commented, "It felt like a thrill, like a discovery of something new." Beautiful Mistake, a stunning piece by Spanish choreographer Cayetano Soto, expertly exhibits the gorgeous physicality of this incredible company through dynamic partnering. The newest work, Heart(s)pace by company favorite Nicolo Fonte, gives audiences a distinctively unique experience as the stage glows with exuberant light and color. This abstract piece explores the complexities of human emotion, specifically highlighting the depths of love and compassion, and illuminated with the importance of touch.
WOMEN AND GIRLS ACHIEVEMENT
Night Out with the Women on City Council
Wednesday, Oct. 22, 2014
|
6 - 8 PM
|
Chatham University, Shadyside Campus - Mellon Board Room
Please join us for a wine and cheese reception followed by remarks from Pittsburgh's four City Councilwomen about their experience on the campaign trail and in office. Ticket Cost: $12; please bring an ID Non-alcoholic beverages will be available to guests under 21 years of age.
Deb Gross
serves as a Member of Pittsburgh City Council, where she represents Pittsburgh City Council District 7. Deb was elected on November 5th, 2013, and was sworn-in on December 6th, 2013. Deb is a lifelong community organizer, strategic planner and fundraiser. Deb is involved with many community development organizations including the Lawrenceville Corporation; Mildred's Daughters Farm; the Bloomfield-Garfield Corporation; The Greater Pittsburgh Arts Alliance, as founding executive director; and the Women and Girls Foundation of Southwestern Pennsylvania. Deb's background in community advocacy also includes having started a business Pecolater, a business whose purpose was to help community development corporations and non-profits strengthen ties within Pittsburgh's business community.
Life-long Northside resident Councilwoman
Darlene Harris
has served Council District 1 since special election in November 2006, but has served the people of Pittsburgh for more than three decades as a community advocate.Mrs. Harris has worked with Spring Hill Civic League for more than 20 years, serving as President of the organization and as a founding member of the North Side Leadership Conference. She helped create the North Side Public Safety Council and has served statewide on the Pennsylvania Commission on Crime and Delinquency.
Councilwoman
Theresa Kail- Smith
was elected as a member of Pittsburgh City Council representing the neighborhoods of District 2 since February of 2009.She was appointed as chairperson of Public Works and is serving as Council President Pro Tempore. She became involved with and worked at a host of nonprofit organizations such as the Pittsburgh Public Schools, The Neighborhood Learning Alliance, formerly known as Wireless Neighborhoods and local Athletic Associations, Community Groups just to name a few. She has nearly three decades of volunteerism. Through her extensive volunteerism, she gained a vast amount of knowledge of the neighborhoods in the City of Pittsburgh and its residents.
Councilmember
Natalia Rudiak
represents Pittsburgh's fourth district on City Council, covering the neighborhoods of Beechview, Bon Air, Brookline, Carrick, Overbrook, a portion of Mount Washington. On November 3, 2009, Natalia was elected to City Council and she was re-elected on November 5, 2013 and was sworn in for a second term on January 6, 2014. Natalia's professional experience is in management and technology. She previously worked at Deloitte Consulting, where she implemented a state-wide information technology system. She has also done press work for the United States Senate in Washington, D.C. and worked for a public health organization in New York promoting safe and healthy motherhood. Born and raised in South Pittsburgh, she graduated from Carrick High School and Carnegie Mellon University, where she earned a master's degree in Public Policy and Management.
For more information click HERE.
Closing the Gap: 50 Years Seeking Equal Pay
LIVE One-Hour Special Hosted by CNBC's Sharon Epperson
Thursday, Oct. 2
|
8 PM on WQED-TV
Fifty years after President Kennedy signed the Equal Pay Act, women are still only making, on average, 77 cents for every dollar earned by men. In that time span the current wage gap has improved at a rate of less than half a cent per year...and if it continues at that pace, the wage gap won't close completely until the year 2053.
Premiering LIVE on Thursday, October 2 at 8 p.m. on WQED-TV, Closing the Gap: 50 Years Seeking Equal Pay is a one-hour talk show special produced by WQED in partnership with YWCA Greater Pittsburgh. Hosted by CNBC's Sharon Epperson, Closing the Gap: 50 Years Seeking Equal Pay will unpack hotly debated statistics and move beyond highly politicized – and overly simplified – talking points in order to explore the many factors that contribute to the wage gap, and strategies to overcome them.
Guests include the namesake of the 2009 Fair Pay Act, Lilly Ledbetter along with national experts representing some of the most iconic women's organizations in the nation including:
• Terry O'Neill, President, National Organization for Women (NOW);
• Linda Hallman, Executive Director and CEO, American Association of University Women (AAUW);
• Teresa Younger, CEO, Ms. Foundation for Women;
• Dr. Dara Richardson-Heron, CEO, YWCA-USA.
Closing the Gap will also stream online for FREE on October 2 through a new multiplatform application from PBS called "ovee." Viewers nationwide may participate by registering here. Ayana Ledford, Founding Executive Director for PROGRESS at Carnegie Mellon University (whose mission is to improve society by empowering all women and girls through the art of negotiation) will moderate the discussion on ovee.Questions will be taken from the studio and ovee audiences, as well those on social media using hashtag #womenwagegap.
For more information click HERE
4th Annual Women First Forum
Thursday, Oct. 2, 2014
|
11 AM - 4 PM
|
Westin Convention Center
The most powerful women in business in our local economy will gather for this free half-day forum. Register now to join Women First and your fellow female leaders to gain knowledge and insight to increase revenue, maximize your resources, and better understand the impact of your health on your business.
Keynote Speaker: Laura Ellsworth, Partner-in-Charge Pittsburgh, Jones Day
Laura Ellsworth practices across a wide range of complex litigation matters, including toxic torts, product liability, insurance, intellectual property, employment, and ERISA. She has been involved in a number of multijurisdictional product liability and bankruptcy matters, several of which have resulted in significant appellate rulings on novel issues such as market share liability and public nuisance. Her work includes coordinating and litigating nationwide matters for various clients, and she has appeared in numerous federal and state courts throughout the U.S

Break Out Sessions:
Practicing Leadership: Global Perspectives, Personal Focus: Presented by Lee Ann Munger (Director, Seton Hill University E-Magnify + PowerLink) and Jayne H. Huston (Director , Seton Hill University E-Magnify)
Make Your Money Work Harder: Developing the Right Approach to Building Your Financial Dream Team: Panel presentation with Donna Chappel, President, Advanced Integration Group; Karan Waigand, U.S. Small Business Administration, Economic Development Specialist; Karen Saine, Vice President, Business Banking Area Manager, First Commonwealth Bank.
Raising your Social Voice: Presented by Meredith Blake Matthews, Director, Consumer Engagement, Mullen
Do You Have the Strength to Succeed? Building YOUR Best Asset for Climbing the Corporate Ladder: Presented by Vonda Wright, MD, MS Orthopaedic Surgeon Medical Director, UPMC Lemieux Sports Complex
Why Women Give It Away...And Why We Shouldn't: Presented by Denise DeSimone, Chairman, Founder, c-leveled
How to Grow Your Business Beyond a Million Dollars!: Presented by AJ Drexler, President and Chief Strategist, Campos Inc, and Yvonne Campos, Founder and Chief Executive Officer, Campos Inc
International Day of the Girl Celebration
Saturday, Oct. 11, 2014 | 10:00 AM - 12:30 PM | East End Cooperative Ministries Community House - Great Room
International Day of the Girl was declared by the United Nations in 2011 to recognize girls' rights and the unique challenges they face around the world. Each and every year, on October 11, we celebrate the strength of girls and their ability to change the world for the better.
The Day of the Girl Pittsburgh Celebration is a fun-filled, family-friendly event that will celebrate girls and the power that girls have to change the world. Join local girl-serving organizations for fun and engaging activities, enjoy delicious snacks and refreshments, and spend time celebrating the power that each and every girl has to make a difference in our local community and beyond!
7TH ANNUAL NAWBO DAY
Nov. 21, 2014 | Sigmas Conference Center
Why should you attend? Because you will learn how to be HEALTHY, WEALTHY & WISE in Business! Invest just $99.00 in your business future! Guaranteed results!
Free Promo Goodies for you too, like business and personal gifts, technology prizes, door prizes and more!


Surprise Keynote TBA with plan "Create a profitable business in one weekend!"

Plus info packed panels on:
•
Podcasting (internet radio) to Increase Your Brand Visibility & Get Clients
•
Creative Financing for Your Business
•
Tech Tools for Maximum Productivity
•
Healthy Options to Keep You Strong & Vibrant While You Work
And Much More!

Also enjoy a great networking party the evening before with the speakers and also a post NAWBO Day reception with other guests and speakers!
NAWBO DAY, WILL SELL OUT! TAKE ADVANTAGE OF THE EARLY BIRD SPECIAL
Just $89.00 BEFORE October 31, 2014
For more information click HERE
BUSINESS BUZZ
Coffee With
Have a cup of coffee with us! Now streaming on CBS Local! Watch our most recent interview with Rabih Helou! We discuss shared office space - the Beauty Shoppe.
COFFEE WITH gives leaders an informal outlet to discuss their thoughts and feelings about issues concerning our community today. Jobs, economy, growth and ease of opening a business are topics along with their favorite ride at Kennywood…and of course…how they take their coffee. Produced by Building Bridges for Business in conjunction with Lockerman Studios. The interview questions are crowd sourced on Linked In, Twitter, Facebook and Google+.
Coffee With…™", is hosted by Christopher R. Evans. Evans is an award-winning executive with extensive experience with both bootstrap start-ups and Fortune 1000s in strategy, branding, marketing and business development. Evans is Vice President of Sales for Savvior Technology Solutions, a firm which helps industry leaders such as Rolls-Royce, Dicks Sporting Goods and Schneider Downs run more smoothly through the design and development of custom web, mobile, and software programs, and the integration and creation of custom enterprise applications.
Creative Director/Lead DP/Lead Editor, Christian Lockerman, has traveled the world creating compelling moving images for a variety of television shows and feature films, both narrative and documentary. He has lensed promo spots for such corporate giants as ATI Specialty Steel, Maybelline New York, Garnier, FoxSports, Versus, Liberty Power and OLN. In addition, he has also directed the photography on three feature length documentaries and two feature films (and he just finished principal photography on his debut directorial effort, The Last Samaritan, due to be released late in 2014). From the treacherous Amazon jungles of Brazil to the overwhelming rain forest cliffs of Pohnpei to the beautiful deserts of Israel, he has had the good fortune to see the wonders of the planet as he has honed the arts of cinematography and filmmaking. These experiences have shaped an intrepid artistic vision and provided a solid creative foundation that he draws upon for every project, no matter what the size and scope. He is particularly proud of the visually exciting work he has been able to accomplish with the Pittsburgh Ballet Theatre over the last few years. Recently, he has been directing a cinematography workshop for the graduate students of Carnegie Mellon University during their final "television" project each spring and has also been appointed to a visiting artist position in cinematography at Point Park University for 2014-2015.
For more information visit BuildingBridgesForBusiness.org/Coffee-With/
NON-PROFIT EVENTS
8th Annual In the Pocket with Charlie Batch
Monday, Nov. 10, 2014
|
7 - 11 PM
|
Latitude 360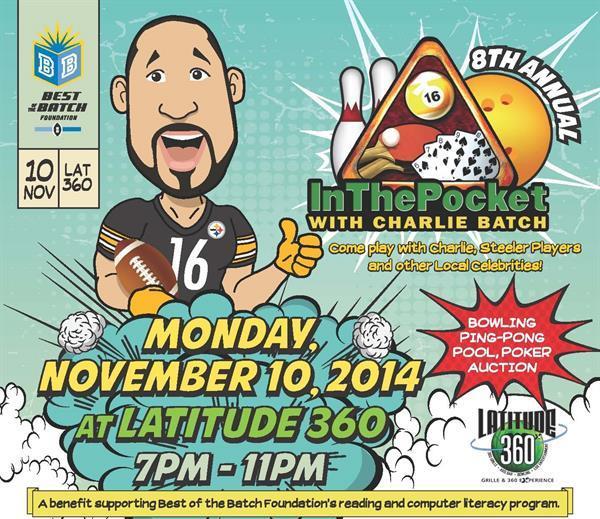 The annual benefit continues to support our reading & computer literacy programs. We are excited to announce, proceeds will also benefit the creation of a new STEAM lab!
Science, Technology, Engineering, Arts, and Math!
It's time once again to see who will have bragging rights for the year! It's time for my 8th Annual In the Pocket with Charlie Batch fundraiser. Click here to find out more about attending the event, becoming a sponsor, placing an ad in our commemorative program or donating to our amazing auction.
Our passion at the foundation is to help unlock the potential in youth of financially challenged communities by providing resources for both students and families, educating and empowering them to give their best efforts in all they do but most of all encouraging them to be the "best of the batch" in life.
Join Latasha and I as the "Stars Align for Literacy" and we host the 8th Annualfundraiser. The night will be filled with some friendly competition in ping-pong, pool, poker, and bowling, a great auction and MORE - as we host my teammates and other celebrities. All of the proceeds raised from In the Pocket will help Best of the Batch Foundation create a STEAM lab and continue to support reading & computer literacy programs.
Visit
BatchFoundation.org
to get event and ticket info.

National Donor Sabbath Celebration Benefiting Center for Organ Recovery & Education (CORE)
From: Our Friends at Soul Pitt
~ Presents 2 Upcoming Events ~
STEP AFRIKA! | October 25
GOSPEL IDOL | November 9
Steppin' Into National Donor Sabbath Celebration
STEP AFRIKA!
Saturday, October 25, 2014 | 7:30 PM
@ University of Pittsburgh Campus, Scaife Hall
3550 Terrace Street | Pittsburgh, PA 15213
Step Afrika! is FREE and open to the public.
GOSPEL IDOL
Sunday, November 9, 2014 at 3 p.m.
@ WVSU Capitol Center Theater
123 Summers Street | Charleston, WV 25301
Judges will choose 10 contestants to go to the final round.
Top 10 contestants will perform at the event.
For registration and audition rules,
visit
www.core.org
All submissions must be post-marked
by Friday, October 10, 2014.
For more information or questions, contact
Lisa Upsher at lupsher@core.org
or 1.800.366.6777
WQED PRESENTS PITTSBURGH FROM THE WATER
Premieres, Thursday, October 9, 2014 at 8 p.m. on WQED-TV
ALCOSAN PITTSBURGH FROM THE WATER "WAYS" YOU'VE NEVER SEEN BEFORE! THE THIRD INSTALLMENT IN THE HOMETOWN "TRILOGY" THAT INCLUDESPITTSBURGH FROM THE AIR AND PITTSBURGH FROM THE AIR II
Filmed over four seasons, Pittsburgh From the Water is WQED's exciting, new documentary showcasing the waters of western Pennsylvania. From the spectacular point in Downtown Pittsburgh, to picturesque lakes and sleepy streams in outlying counties, Pittsburgh from the Water spotlights the beauty, work and play associated with our waterways. Premiering on Thursday, October 9 at 8:00 p.m. on WQED-TV, Pittsburgh From the Water provides a unique perspective of dozens of local waterways from locations such as:
Allegheny County
• Allegheny River
• Monongahela River
• Ohio River
Beaver County
• Buttermilk Falls
• Ohio River
• Raccoon Creek State Park
Butler County
• Lake Arthur (Moraine State Park)
Fayette County (Laurel Highlands)
• Jacobs Creek
• Monongahela River
• Youghiogheny River (Ohiopyle)
Indiana County
• Conemaugh River Lake Dam
Lawrence County
• McConnells Mill State Park
• Neshannock Creek
• Strawberry Fields Quarry
Somerset County (Laurel Highlands)
• Casselman River
• Clear Shade Creek
• Youghiogheny River Lake & Dam
Washington County
• Monongahela River
• Peters Lake Park
Westmoreland County (Laurel Highlands)
• Keystone State Park
For more information click HERE
Comedy Central Star Anthony Jeslenik
Thursday, Oct. 16, 2014
|
8 PM
|
Byham Theater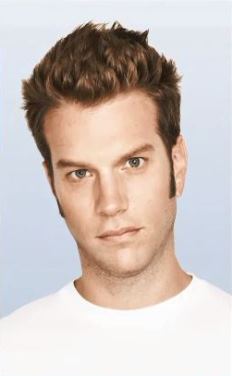 Anthony Jeselnik is from Pittsburgh, Pennsylvania. He graduated from Tulane University. Anthony is a stand-up comedian, most famous for THE COMEDY CENTRAL ROAST OF DONALD TRUMP and THE COMEDY CENTRAL ROAST OF CHARLIE SHEEN, as well as THE JESELNIK OFFENSIVE, which he starred in and crated, airing for two seasons in 2013. Anthony has also performed on CONAN, THE TONIGHT SHOW, JIMMY KIMMEL LIVE and was the first ever stand-up comic to appear on LATE NIGHT WITH JIMMY FALLON. Anthony has also written for LATE NIGHT WITH JIMMY FALLON and received an Emmy Nomination for his work on A NIGHT OF TOO MANY STARS: AN OVERBOOKED CONCERT FOR AUTISM EDUCATION. Anthony was named one of Variety's 10 Comics to Watch in 2008 and one of Comedy Central's Hot Comics in 2009. In 2010, Anthony released his critically acclaimed debut comedy album, SHAKESPEARE, through Comedy Central Records. After the Comedy Central Roasts of Charlie Sheen, Donald Trump and Roseanne Barr, Anthony released CALIGULA, his first hour long special, to critical acclaim.
For more information click HERE
Thank you for your viewing and listening support. If you have a Good News story you would like us to share on PostitivelyPittsburghLive! or would like your business or event featured please contact us
News Posted By: Stephanie Curtice
This was reported as a reproduction of PositivelyPittsburghLive news done by Joanne Quinn-Smith.
(c) Joanne Quinn-Smith and PositivelyPittsburghLive(TM) 2014 All rights reserved.